Housing market "showing signs of strain" warns Nationwide
Source: https://www.mpamag.com/market-update/housing-market-showing-signs-of-strain-warns-nationwide-87731.aspx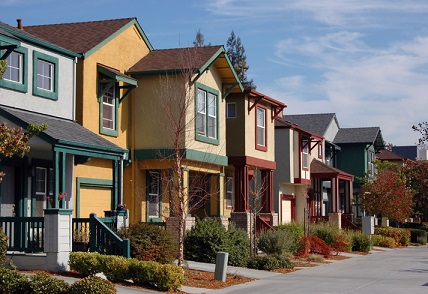 Continued escalation of home prices is putting a strain on America's housing market warns insurer and mortgage lender Nationwide.
In its Health of Housing Markets report, the firm says that the rapid appreciation of home prices is weakening the near-term outlook for the housing market.
"The biggest concern with regard to the housing market in 2017, especially as the year ends, is that persistent price gains are reducing affordability," said David Berson, Nationwide senior vice president and chief economist. "The housing market is still moving forward thanks to solid job gains, but it's showing signs of strain. We're watching to see if household formations, income, job, and mortgage trends can sustain the market's health."
Despite the concern, Nationwide's outlook for the housing market remains mostly positive, although less optimistic in the fourth quarter of 2017 than in the previous three months.
Strong improvement for oil, gas regions
Housing markets in oil and gas producing areas are among the most improved in 2017 with rising housing demand supported by labor market gains.
The 10 top metro areas in Nationwide's index are, in order: Waterloo-Cedar Falls, Iowa; Carbondale-Marion, Ill.; Philadelphia; Valdosta, Ga.; The Villages, Fla.; Canton-Massillon, Ohio; Gadsden, Ala.; Little Rock-North Little Rock, Ark.; Trenton, N.J.; and, Morgantown, W.Va.
Those at the bottom are: Rapid City, S.D.; Brunswick, Ga.; Rochester, Minn.; Sioux Falls, S.D.; New Orleans-Metairie, La.; Dallas-Plano-Irving, Texas; Victoria1, Texas; Morristown, Tenn.; Waco, Texas; and, Bangor, Maine.
Underwater levels still worrying
Nationwide says that the number of homeowners that are underwater is a concern.
The sharp rise in home prices nationwide has not helped 25% of metros where prices remain below their pre-crash peaks, some are off by more than 20%.
The share of mortgages that are underwater is near 5% but closer to double figures for those in areas that are below their peak.
The top 5 markets below their peak are: Las Vegas-Henderson, Nev. (27.7 below), Bakersfield, Calif. (23.1), Fresno, Calif. (21.5), Tucson, Ariz. (20.3), and Orlando-Kissimmee, Fla. (19.7).
About Empire Appraisal Group, Inc.
Establish in 2005, Empire Appraisal Group, Inc., is Broward County's leading residential appraisal company as a result of their accurate and reliable appraisals, excellent customer service, and quick turn times.  When working with an appraiser, integrity and professionalism are essential, and Empire Appraisal Group has a well-established reputation for providing the best appraisal experience.  Daniel Lindeman, the Chief Appraiser, is considered one of the top property appraisers in Florida, with nearly 15 years of expertise and 7,000+ appraisals to his credit.
We 'specialize' in helping people who need appraisals for estate purposes, divorce, bankruptcy, FSBO's and more.
We also work closely with realtors to help establish listing prices, these pre-listing appraisals ensures sellers get top dollar for their home.
In addition, to homes of all shapes and sizes, we also appraise condos, multifamily homes, boat docks, land, as well as specialty properties. No job is too big or too small, from manufactured homes to mansions.
Call Empire Appraisal Group directly with any questions concerning your real estate values at 561-441-9298.  Also, check out our 'Reviews' page and see what others are saying about Daniel Lindeman and Empire Appraisal Group, Inc.
We provide residential appraisal services to all cities in Broward County:  Parkland, Coral Springs, Coconut Creek, Dania Beach, Cooper City, Davie, Deerfield Beach, Fort Lauderdale, Sunrise, Hallandale Beach, Hillsboro Beach, Hollywood, Lauderdale by the Sea, Lauderdale Lakes, Lauderhill, Lighthouse Point, Margate, Miramar, North Lauderdale, Oakland Park, Pembroke Pines, Plantation, Pompano Beach, Sea Ranch Lakes, Tamarac, Weston, Wilton Manors.