Site for proposed 35-story tower in Fort Lauderdale sells for $7M
Brian Bandell  – Senior Reporter – South Florida Business Journal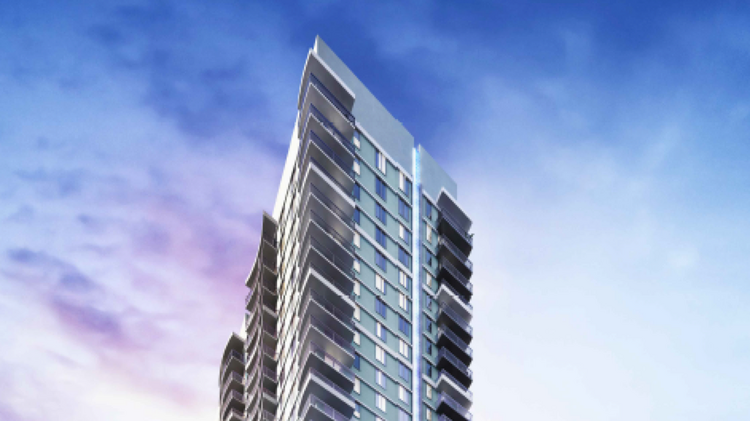 A developer who has proposed a 35-story mixed-use tower in downtown Fort Lauderdale has obtained control of the property in three deals for a combined $7.15 million.
New River Central LLC, managed by J. Kevin Reilly and Jacob Frydman, acquired the 42,749-square-foot site at 100 S.W. 6th Street and 608 to 614 S.W. Flagler Ave.. The sellers were Courthouse Investment West and Courthouse Investment Group, both managed by Jon Freemon, for $2.32 million and $2.83 million, respectively, in addition to Miguel Pilgram's South Haven Ventures for $2 million.
If the project moves forward, it would add to the residential building boom in downtown Fort Lauderdale as more people seek to live near the employment center.
New River Central is seeking final city approval for a project of the same name with 408 residential units, 5,697 square feet of ground floor retail and 428 parking spaces. The eight-story parking garage would be topped with an amenity deck featuring a pool, lounge, yoga room, and fitness center.
The project would take up the south side of Southwest 6th Street from Southwest Flagler Avenue to Southwest 1st Avenue. A Publix is on its east side and the FEC railway as on its west side.
The tower would not be on the New River.
New River Central was designed by Dorsky Yue International with landscapes by Lewis Aqui Landscape + Architectural Design.
———————————————————————————————–
Establish in 2005, Empire Appraisal Group, Inc., is Broward County's leading residential appraisal company as a result of their accurate and reliable appraisals, excellent customer service, and quick turn times.  When working with an appraiser, integrity and professionalism are essential, and Empire Appraisal Group has a well-established reputation for providing the best appraisal experience.  Daniel Lindeman, the Chief Appraiser, is considered one of the top property appraisers in Florida, with nearly 15 years of expertise and 7,000+ appraisals to his credit.
We 'specialize' in helping people who need appraisals for estate purposes, divorce, bankruptcy, FSBO's and more.
We also work closely with realtors to help establish listing prices, these pre-listing appraisals ensures sellers get top dollar for their home.
In addition, to homes of all shapes and sizes, we also appraise condos, multifamily homes, boat docks, land, as well as specialty properties. No job is too big or too small, from manufactured homes to mansions.
Call Empire Appraisal Group directly with any questions concerning your real estate values at 561-441-9298.  Also, check out our 'Reviews' page and see what others are saying about Daniel Lindeman and Empire Appraisal Group, Inc.